Guest Post: Winners and Losers from the NBA Draft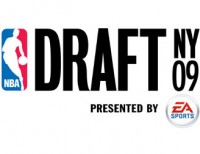 Today's post is courtesy of guest blogger Joshua Duboff of The Sports Business Exchange.
The day after the NBA Draft is usually devoted to commentaries on which teams end up as winners and losers from the night before. This Draft offered plenty of opportunities for discussions. However, what rarely gets discussed is the Draft's sponsors. I attended last night's draft as a mere spectator, but as many in the sports business encounter, I could not stop myself from looking around for sponsors and analyzing their activation. From what I could gather, there were four sponsors: EA Sports, Adidas, Kia, and Hewlett Packard. Here are last night's sponsor winner and losers for on-site activation.
Winner – EA Sports:  EA Sports had the best sponsorship package of the evening. Not only was their logo everywhere, including the back side of some of the tickets, but they had an activation kiosk in the main lobby of WaMu Theater as well. At the station, fans could pose with a basketball and have their picture superimposed onto the cover of NBA Live '10. The photo printed out and was a great take away from the evening. There were also gaming stations where fans were playing Playstation. While I couldn't get confirmation, I assume the fans were playing NBA Live '09, since the 2010 version doesn't come out until October 6th (I only know the release date because of last night's sponsorship). According to a Sports Business Journal article from June 22, EA Sports also gave away branded Dwight Howard Fathead Tradeables to fans as they left the event. I stayed until the very end of the Draft and was then ushered out a side door so I did not get a promo. If this promo is true, that's a good take away item, although I'm not sure how a Dwight Howard Fathead was embraced in the New York market. At my desk, I still have my green Sprite cup from the 2007 NBA Draft.
Losers – Kia & Hewlett Packard:  Kia and HP took different routes. Kia handed out reusable bags with car information pamphlets inside. Many fans grabbed a bag, but many bags eventually found their way to the ground as well. The color of the bags (redish brown) left something to be desired and lacked distinguishable marks to recognize the 2009 Draft. Inside the theater, the video boards rotated between sponsor logos (EA Sports, Kia, HP). This was the only sponsorship I could see for Hewlett Packard. There was no activation, simply signage (note: most of HP's sponsorship was behind the scenes with printers and scanners).
Undecided – Adidas:  I had to be reminded that Adidas was a sponsor because there was no activation outside of selling NBA Draft merchandise. Had I been in the market for a new hat, I probably would have more easily identified Adidas as a sponsor. That being said, there was a long line at the merchandise table all night. With both local teams only having on relevant pick and assuming most fans are from the Tri-State Area (in other words, few people should be there buying Clippers or Grizzlies gear), I suspect Adidas was pretty happy with the crowds at their table.
Like I mentioned earlier, I may have missed some activation points. However, if I as a sports business professional couldn't find these points, I can't imagine the rest of the fans could either. EA Sports wins.