An Unlikely Pairing: Hockey and Poker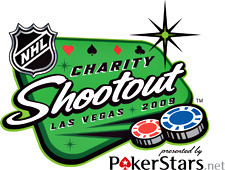 Last week the NHL had their 2008-09 end-of-season awards ceremony at the Palms Casino in Las Vegas. It was a night to celebrate a great season of hockey, with Alex Ovechkin taking home three awards and three different players from the Bruins winning individual awards.  From all accounts, the event seemed to be a great way for the NHL to cap off a successful year.  However, I want to talk about a different event that took place out there.
While the NHL was taking over Las Vegas, they partnered with PokerStars.net, a free online poker site, and the World Series of Poker for a special charity poker tournament.  The tournament (which was appropriately a "shootout" style event) featured a combination of current NHL players, celebrities and amateur poker players that won their seats through PokerStars.net.  Scott Hartnell from the Philadelphia Flyers ended up winning the event, earning $25,000 for the ASPCA.  You can read more about the event at NHL.com and PokerNews.com.
Now the NHL and the World Series of Poker might seem like an unusual pair of companies to work together.  After all, poker is viewed as a gambling activity, and most professional sports do everything they can to avoid connections to gambling. But in this case, the pairing seemed to work out well for both sides.  The NHL found a way to gain more exposure for their first Las Vegas awards show and create another unique event to add to their get-away weekend. The World Series of Poker got to add a unique hockey flair to their events for a day and tap into some of the NHL's recent positive publicity.  Take a look at some of the pictures here, courtesy of PokerRoad.com. I particulary like the hockey rink style poker table and the hockey boards in front of the spectators.  They even brought out the Stanley Cup during that day's WSOP tournament winner's ceremony.
Ultimately, both "leagues" are looking to increase their public exposure.  The NHL is still viewed as a distant 4th in the "Big 4" U.S. sports, but is arguably gaining ground.  Meanwhile, poker and the WSOP want to grow their audeince and be viewed as "sports entertainment" with their coverage on ESPN.  I think both brands benefit from an event like this, and they deserve credit for their unlikely partnership.