Five For Friday – June 19, 2009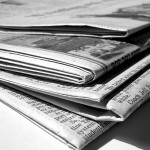 This week on "Five for Friday" we discuss a new sponsorship deal for the New York Giants, merchandise sales by the Los Angeles Lakers, and ESPN coverage of the U.S. Open. Perhaps most interestingly, we include the NBA's decision to remove a courtside ban on advertising by spirit brand companies. Maybe increased liquor consumption by basketball viewers will help fuel the idea that the NBA is where amazing happens?
1. New York Giants announce deal with Timex for practice facility naming rights – The Giants announced Wednesday morning that their practice stadium has a new name, The Timex Performance Center. The Giants signed a 15 year deal worth an estimated $35 million with Timex that includes the naming rights to their practice facility along with the right to sew Timex logos on all of the team practice jerseys. It is fun to note that Eli Manning, the star quarterback of the team, has a deal with Citizen Watch. What do you think is a better investment as a watch company – the star quarterback of the team or the practice jerseys and facility? 
2. Tiger Gives Boost to Golf Betting – The new sport to bet on is golf. Due in part to Tiger Woods' dominance, more gamblers are looking to take advantage of a "sure thing." In golf you can bet on an individual player to win or on the odds that a player won't win.If you bet on Tiger at the U.S. Open this year and put down a $100 your return if Woods hoists the trophy is $175. Gamblers and golf analysts see this as basically free money.
3. Liquor deals start to flow – The National Basketball Association has a social responsibility initiative program with the slogan, "The NBA, where caring happens." However this past week the NBA removed a longtime ban on courtside advertising by spirit brand companies. Bacardi, which has a deal with the Miami Heat, already plans to use this new option in order to advertise down at the court level during the 2009-2010 NBA season. Do you think this is a smart endorsement move by the NBA?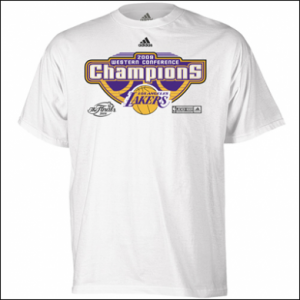 4. Lakers Set Champs Sale Record– The Los Angeles Lakers team won more than a championship for their franchise this year. They also won the record for most championship merchandise sales in the 48 hours following their series victory. As a matter of fact, they sold twice as much merchandise as the Boston Celtics did last year after they won the 2007-08 NBA title. Why was there such a greater volume of sales this year? The NBA's senior vice president of global retail development explains that is has to do with a larger global fan base.
5. Full-court press on U.S. Open– ESPN has plans to cover close to 87 hours of U.S. Open play via the television or internet this weekend. ESPN360 has the rights to 30 hours of Open play and the other 57 hours can be seen on television. However if you have plans to watch golf action from your computer be aware that ESPN hasn't exactly made it clear that they require an ESPN360 subscription from internet users to watch on their site. They want you to make plans to watch it on your computer and then give in to a subscription once you realize one is required.