Guest Post: Common Marketing Mistakes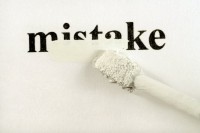 Today's post is courtesy of guest blogger Amanda M. Miller, a current Sports Business/Marketing MBA student at Arizona State and summer intern for Navigate Marketing.
While I have a long background in sports and in public relations, the marketing classes that I took this year were my first official education in that subject. It hasn't taken long, however, to see some of the basic tenets of marketing ignored by several major league sports teams. While I won't name names, these examples come from an NFL team, a WNBA team and an NHL team, so clearly there are people in high places that might want to return to the basics.
First mistake: targeting, or lack thereof. It can be difficult to pinpoint what a team's target market should be, and harder still to find cost-effective ways to reach those people, but that doesn't mean it shouldn't be the foundation of a marketing plan. There are numerous examples of teams that violate this principal.
In one case, a team sent part of its marketing staff to hand out promotional items in advance of their first game. Some of these items ended up being given to homeless people. Now while there might be some value in having promotional items in visible places, clearly this is not the target demographic of any team. This endeavor was a waste of time for the people involved and also a waste of promotional materials.
In another example, the task was to hand out tickets to the first game of the year for a professional team. Instead of finding an event or group that might have 1) used the tickets and then 2) been interested in coming to more than that first game, the tickets were handed out to working professionals who were heading home from a long day at work on the mass transportation system, even though research has shown that that segment is NOT the target for this particular team.
A second huge mistake is the misuse or ignorance of social networking sites. Social networking has been the largest growing tool for marketing departments. MBA interns are increasingly finding that their comfort with these sites and tools is useful in their internships. However, once the internship is over it's important that someone within the department maintain these sites. Sometimes their misuse is due to ignorance, sometimes to apathy, and sometimes to neglect.
I've seen Twitter pages that direct people to non-working web site pages and Facebook pages that have not been checked in months. As anyone who reads this blog knows, Twitter and Facebook are two cost-effective ways to reach out to fans, especially if they are updated with interesting, unique and dynamic content. Idle, static pages only serve to make your brand seem idle and static.
Finally, a general lack of ingenuity with respect to a team's web site is a common problem. I've seen web sites that advertise services that are no longer offered by the team and web sites that look exactly the same every time they are visited. If there is nothing new on the site at first glance, why does a team think its fans would want to visit it?
We all know how crowded the sports marketplace is. Competition is fierce for a fan's interest. My advice to any team would be to utilize the free resources such as social networking sites to their fullest and avoid scattershot marketing. While those tickets your marketing team is handing out may seem 'free,' you're using the time of your employees and interns for a pointless exercise. And time IS money, right?
Would you like to be a guest blogger for TheBusinessOfSports.com? Let us know by filling out our contact form.