Interactive Campaign from Arizona State
Arizona State Football just released a new interactive marketing piece called the "Arizona State Football Experience." It's framed as a message from Coach Dennis Erickson, and the video does a great job of taking you from the practice field to the Hall of Fame at Sun Devil Stadium and up to the coach's office, interacting with the players, Sparky and then Coach Erickson himself.  All throughout the video, your name is integrated into various parts of the footage. The "experience" is capped off by a phone call from the coach, from which you have the option to connect directly to the ASU sales office to buy your tickets.  Finally, there is an option at the end of the video to forward it on to friends, and the page features links to the major social networking sites to encourage viral distribution.
The thing I like most about this one is that the personality of the participants comes through, particularly in the elevator scene.  That part of the clip may seem somewhat silly, but to me it helped create a more genuine connection to the athlete and the football program.  Click on the image below to experience the "experience" for yourself.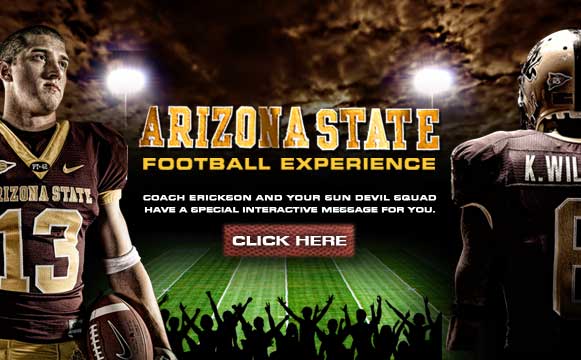 These types of interactive elements have gained a lot of popularity over the past few months.  It started with Gonzaga's women's basketball campaign, and I've seen similar campaigns recently from the Miami Dolphins and the Philadelphia Flyers.  Clearly these integrated, experiential videos seem to be more effective in engaging the viewer, which should in turn help convert these viewers into buyers.