Highlights from Blogs with Balls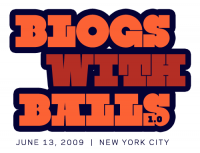 As I mentioned in my last post, I attended the "Blogs With Balls"sports bloggers conference on Saturday.  I have to say the event was a great success.  The discussion panels were excellent and covered a wide range of topics, including how to leverage social media, generating advertising revenue, contrasting mainstream media vs. "new" media and much more.  There were panelists from ESPN, Sports Illustrated, YardBarker, SB Nation, Bleacher Report, Octagon and too many quality sports blogs to list.
Many people were "live tweeting" the event, including myself.  Here are some of my favorite comments and thoughts from the event, all collected via search.twitter.com:
Here are links to some other articles and blog posts that wrote about the event.
Thanks again to everyone from HHRMediaGroup who created Blogs With Balls. I can't wait for the next one, and I encourage anyone else who is interested in learning more about blogs and social media to attend.