Five for Friday – June 12, 2009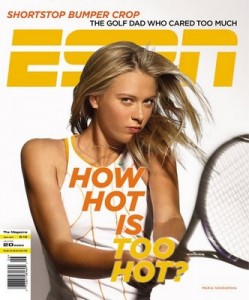 Did you wear Starter gear as a kid growing up? Dallas Cowboys QB Tony Romo did, and since last year he has been helping the organization known as "Starter" work its way back into the sports industry mix. Be sure to make your way to the bottom of this week's "Five for Friday" article which also features stories on Rodger Federer and a risque move by ESPN The Magazine.
1. Yahoo sues NFL players union over fantasy stats – As funny as the headline sounds, it is real. Yahoo's fantasy sports games gross an average revenue of more than a billion dollars a year. Recently, the NFL player's union has threatened to sue Yahoo, arguing it doesn't have the right to use player's names, photos, or stats.
2. Off the Court, Federer is Trumped – Statistically Rodger Federer is atop the world on the greatest athletes list; however he receives proportionally few sports endorsements . Why is this the case? Well it seems tennis players need a certain personality to gain a fan's attention outside of being dominant inside the sport. There are certain characteristics that American tennis fans look for and Federer simply does not fall into many of these categories.
3. NBA Finals: This Year Is Outrating 2008's Matchup – Last year's NBA Finals match-up revived a classic rivalry between the Los Angeles Lakers and the Boston Celtics. It included a ton of star power and overall boosted a great series. However this year's NBA Finals between the Los Angeles Lakers and the Orlando Magic has been attracting more viewers. Maybe this proves that the increased marketing and emphasized dream Finals series between LeBron and Kobe has helped the league out. What are your thoughts?
4. ESPN The Magazine floating idea of risque 'Body Issue' – ESPN The Magazine has made what could possibly be a regretful move to enter into the world of nude photography. They aren't completely engaging in a new style of photography, but they have been approaching professional and semi-professional players to take semi nude photographs where sports equipment will cover specific body areas. The players' photographs are planned to be tasteful and will show no visibility of body parts that ESPN The Magazine hasn't already included before.
5. Iconix Using Romo To Resurrect Starter – Iconix, a company whose brands consist of  Danskin and Candie's and Joe Boxer, currently owns the athletic retailer Starter. Last year Iconix signed Dallas Cowboys quarterback Tony Romo to one of the league's highest paid endorsement contracts. It is their hope that Romo can help revive Starter to the level it was at back when Romo was a child. The investment Iconix has made signing a superstar like Romo could prove valuable considering Romo is still dating Jessica Simpson and besides his own commercials appears in magazines and other media outlets regularly.