Five For Friday – June 5, 2009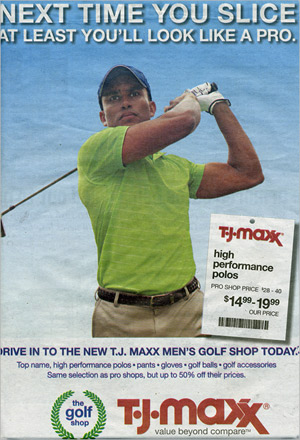 This week's "Five for Friday" welcomes a sports marketing strategy that uses a celebrity lookalike to impress customers, a new Vitamin Water ad, as well as the new trend of corporate marketing on professional sports teams' jerseys.
1. The Lie of the Tiger  – Discount clothing retailer, T.J. Maxx, has been advertising golf Polo shirts using a Tiger Woods lookalike. Their advertisements are meant to show customers that they too can look like Tiger in a discounted polo, however this stunt by T.J. Maxx may turn out badly if Tiger Woods or Nike decides to sue based on the discount retailer implying an alleged relationship between the golf star and their company.
2. Dwight Howard Parodies Kobe/Lebron Vitamin Water Ad in… Vitamin Water Ad – As soon as the Orlando Magic made the NBA finals, Dwight Howard (a Vitamin Water spokesman himself) called up Rohan Oza, the comany's chief marketing officer and told him that he wanted his own ad. Oza responded by giving Howard a budget and a production crew and asked Howard what he wanted to do. On Monday night they spent 45 minutes shooting the ad from start to finish so that it could be prepared for yesterday's game one of the NBA finals. The Kobe vs. LeBron hype was solved that easy for Vitamin Water. It is Nike who feels the pain of featuring Kobe vs. LeBron for the past few weeks since they can't easily grab Howard (Howard is with Adidas) to update their commercials. It is interesting to note that earlier this week, a Nike spokesman told the media that Nike will continue to run their Kobe and LeBron ads throughout the NBA finals even if LeBron is not playing.
3. In WNBA, Jersey Sponsorship Could Set New Standard –  On Monday the Phoenix Mercury professional women's basketball team announced a three year deal with LifeLock, a Tempe, Arizona based identity-theft protection agency, to wear team jerseys that read LifeLock across the front. The deal could change the standard of jersey sponsorships in the WNBA to that which resemble international sports where displaying corporate names on jerseys is standard.
4. Manchester United signs Aon as shirts sponsor  – For at least the next four years, the logo of Chicago-based insurance broker Aon will adorn the uniforms of Manchester United players. The Aon logo will replace that of the New York based insurer, American International Group (AIG), which previously held position as the corporate name to run across the most popular international professional soccer team's jerseys.  The deal is said to be worth $131 million dollars which could prove to be a great move for Aon since Manchester United has one of the greatest followings in all of sports.
5. Adidas Gives Howard New Shoe For Finals – Depending on how detail oriented you are, you may have noticed that Dwight Howard was wearing a new pair of shoes in last night's game one between the Los Angeles Lakers and the Orlando Magic. Adidas provided Howard with the TS Commander LT which weighs six ounces lighter than the TS Bounce Commander shoes Howard had been wearing recently. Adidas explained that they felt Howard should have a lighter shoe for the finals match-up. However for those fans who have seen Howard play, we all know he does not need a lighter shoe. He would do just fine on the court with weights around his ankles. Adidas is using the shoe as a reminder to everyone that the superstar Howard is with them and not Nike.