TheBusinessOfSports.com Networking Event Recap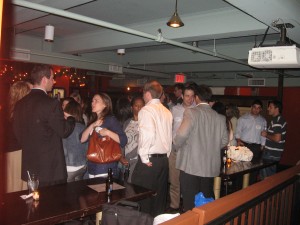 So the first official "TheBusinessOfSports.com Networking Event" has come and gone, and I couldn't be happier with how it went.  We had over 100 people show up, and everyone seemed to be in the right spirit.  Everyone was talking and connecting with new people, trading stories and business cards.  We had people from a wide range of companies (ESPN, NBA, MLS, NY Giants, NJ Devils and SBJ among others) and backgrounds (students, agents, salespeople, marketers, entrepreneurs, VPs and more).
I've received a few tweets and emails afterwards, and everyone seemed to agree that the event worked and that there's a need for these types of get-togethers, so we're going to keep moving forward with scheduling them.  The next event is going to be in Philadelphia on June 16th, and we'll probably have the next New York event sometime in July.  Keep an eye on the Event Calendar page for a full list of events.
Thanks again to everyone who came out last night, and a special thanks to my co-host, Joshua Duboff (www.thesportsbusinessexchange.com). If you have any feedback on the event or ideas on how we can make it even better, please let us know.