Sports Business Twitter Poll Results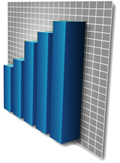 I'm sure you've all noticed that I always have a poll running on the right side of the page. If you don't already, please vote! I try to change the poll every 1-2 weeks and the results can be quite interesting. On that note, here are the results from some of the recent polls, which I will continue to post semi-regularly. Remember, the more people participate, the more valuable the results will be, so please vote!
Do you use Twitter to consume sports-related content?
Yes (67%, 53 Votes)
No (33%, 26 Votes)
Total Voters: 79
This poll went along with my series of Twitter-related blog posts from early March.  This was right around the time when Twitter started exploding in the sports arena, so I wanted to see how many people were already using Twitter to consume sports-related content.  As you can see, about 2/3 of the participants said that they did use Twitter for this purpose.  I realize that my "sample" is probably not representative of the entire sports fan population, since most of my readers are connected to the business side and may have learned about Twitter before the rest of the mainstream public. However, I bet that if I ran this poll again just a couple of months later, that the Yes vote would be closer to 75 or 80%. 
Don't Forget!  Tonight is The Business of Sports Networking Event in NYC! You can see all the details here, and we can still accept last minute RSVPs. Hope to meet some of you tonight!