The Business of Sports Networking Event Updates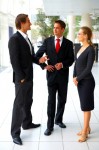 Just wanted to share a quick update with everyone regarding the upcoming networking events we have scheduled.  The response for the New York City event scheduled for next Tuesday, May 26 has been great. We just had our 100th RSVP, so we expect to have a very nice turnout.  You can click here to see all the event details, including the RSVP form.
The details for our Philadelphia event have also been finalized.  That one will take place on Tuesday, June 16th at 6:30 PM at McCormick and Schmick's (1 South Broad St).  You can click here to RSVP for the Philadelphia event.  Thank you to Julie Lanzillo for her help with the logistics.
Please remember that we do have one rule – do not bring resumes.  These events are about building a network with others working in the sports industry.  All experience backgrounds are welcome, from students to veterans, so bring plenty of business cards and good conversation!
Joshua Duboff (from The Sports Business Exchange) and I are really excited about these events, and we expect to host them quite regularly (either monthly or bi-monthly most likely).  In addition, we should have an announcement about a Boston event in the coming weeks.  You can always visit the Event Calendar page for the most up-to-date information.