This week on "Five for Friday" we cover just how important sports business is to our president as well as how Major League Baseball, the National Football League and the National Basketball Association all have used the sale of apparel to further market their respective organizations.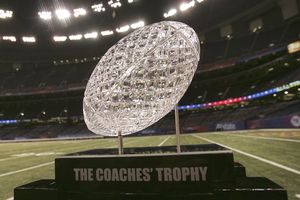 1. House Hearing take aim at BCS:  Our nation's leaders have many important issues to consider and attend to these days with the economic crisis and military efforts in the middle East. However today they are choosing to address what has been an issue in college football for quite some time.  Today, Congress will gather to discuss the fate of the Bowl Championship Series. President Barack Obama has suggested that this hearing today is necessary and he has the committee ready to allege charges on BCS officials for unfair distribution of BCS profits which inhibits other college football programs from a chance to win a national championship. This story is truly one of a kind.
2. Change isn't always good in the NFL:  In the days leading up the NFL draft at least three teams showed off their new NFL jerseys. Detroit, Jacksonville and San Francisco all decided a wardrobe change was needed for this upcoming season. It seems they are taking the position that new uniforms can equate to an opportunity to start fresh this season and recreate a reputation for themselves. Perhaps those particular franchises feel new jerseys also allows them to more easily swing into a new branding initiative and marketing campaign. One thing that is for certain – this will give fans another reason to buy their first, second, or possibly third NFL jersey.
3. Buy a Majestic Jersey, Get Two Tickets to an MLB game:  The Commissioner's Fan Initiative campaign was created to provide awareness to baseball fans everywhere on just how low MLB ticket prices have fallen at each of the ballparks across the country. In order to do so they have created a promotion which offers each fan two free tickets to a MLB game with the purchase of a Majestic MLB jersey in 2009. This should prove to be a successful marketing operation.
4. Amazin'! Alyssa Milano Opens Clothing Boutique at Citi Field:  Besides the Fan Initiative promotion that Major League Baseball began, they have also agreed to work alongside Alyssa Milano in an attempt to capture the sports fashion apparel market for women. Greg Sim, MLB Properties director of licensing, apparel, and head-wear said Major League Baseball will help market Milano because she is addressing "a part of the market we haven't touched yet." The league has already created an online contest in which fans have the chance to win a trip to Los Angeles to join Milano for a Dodgers game.
5. Kobe's No. 24 jersey is NBA's best seller:  For the National Basketball Association, the news that Kobe Bryant's jersey is again the top selling jersey is good news. Since he is one of the league's best players, it is important that fans approve of seeing him often. After all he carries his team to the playoffs on a regular basis and does play in one of the nation's largest cities so he will have extra media attention. I only mention this because he has come a long way since his legal issues, which was not how the NBA wanted fans to remember him.