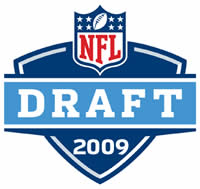 No league has done a better job at marketing their sport in the off-season than the NFL, and one of the centerpieces of their off-season is the NFL Draft.  It has turned into such a successful event that the draft has better television ratings than the NBA playoffs!  Personally, I really enjoy ESPN's draft coverage, so I watched most of Day 1 and pieces of Day 2.  Here are some business-related thoughts I had in looking back at this weekend's event:
Having the #1 pick requires such a financial committment that it's no longer beneficial for the team.  One of the biggest issues that needs to be addressed in the next collective bargaining agreement is a rookie salary scale.  The Lions have guaranteed over $40 million to Stafford.  If he is a busts and the team fails, their reward is paying him, getting another top-5 pick, and then having to commit to another huge guaranteed contract. These teams simply will not be able to sustain these types of rookie contracts.
Marc Sanchez was taken by the Jets at #5, but what type of salary demands will he have?  Contracts for rookies are generally based off the contract of the equivalent pick from the previous year; however, quarterbacks in the past have demanded a premium above their pick number. Will Sanchez have similar demands?  On the opposite note, the Raiders select Darrius Heyward-Bay with the 7th pick, much earlier than anyone projected and passing over top WR prospect Michael Crabtree in the process.  Will the Raiders use this fact to try and drive down his rookie contract?
The Cleveland Browns traded down three times in the first round.  There are probably two reasons for this.  One – their team has so many needs that it was more important to collect additional picks. Two – the salary associated with picks high in the first round was more than what the Browns wanted to commit to.  The television coverage focused on the first reason, but the second cannot be ignored.
Clay Matthews was selected late in the first round.  When ESPN cut to the video feed from him home, he and his family were all prominently wearing Muscle Milk shirts.  Could this be the start of a trend of draft picks using their television time to help pitch a sponsor's product?
How much did "personal" issues impact the draft?  Andre Smith was still a top-10 pick after his combine disappearing act and other questionable decisions.  However, Percy Harvin slipped a few spots to #22.  Did his positive marijuana test contribute to this?
The Jets traded up to select running back Shonn Greene with the first pick in the third round. Thomas Jones, the current Jets running back, is threatening to hold out for a bigger contract, so is this a sign that the Jets are willing to move on without Jones?
What are your favorite stories from this year's draft?