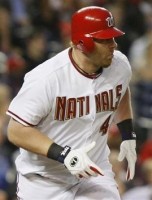 In case you haven't heard already, the Washington Nationals made some news the other day because a couple of their players were wearing jerseys that said "Natinals" instead of "Nationals" – see the picture on Adam Dunn on the right.  While this story is a little embarrassing for the franchise and the jersey provider, there are two ways the team can respond:
1.  They can try to find someone to blame (an employee or the jersey manufacturer) and then do their best to pretend the incident never happened, or…
2.  They can embrace the mistake and use it to their advantage!
How can they do this?  Here are some simple ideas that could turn a mistake into an opportunity:
Auction the misspelled jerseys for charity and have the team match the money raised with a donation of their own.  Because of the rarity of this incident and the public exposure, these jerseys could sell for a nice price, and the charity aspect provides wonderful PR.
Hold a "Bad Spelling Day" promotional day, complete with other players wearing misspelled jerseys, games on the video boards and unique prizes.
Along the lines of the NHL Winter Classic contest to find the missing Reebok logo, have a contest where fans need to identify the jersey that is missing part of the logo, a letter, etc, and then have them enter an online contest.
Create a funny viral video with players from the Nationals participating in a spelling bee.  This video would be sure to get a lot of buzz online and shows that the team has a sense of humor.
The basic idea is to put a positive spin on mistakes when they happen.  Anything is an opportunity if you look at it in the right light!