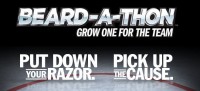 There is a fun tradition among many NHL teams where the players do not shave at all during the playoffs.  Some players end up with very impressive facial hair, especially if their team makes a deep playoff run. 
Recognizing this tradition and the opportunity it presents, several NHL teams have partnered with the website www.Beardathon.com to help raise money for their team charity.  Their slogan is "Grow One for the Team" and the concept is very simple and fun.  Fans can sign up and volunteer to grow a beard during the playoffs.  Then they can encourage their friends and family (or anyone really) to pledge an amount per day that they grow their beard (the length of time corresponds to how long their team is in the playoffs), or simply make a flat donation.  The participating teams have gotten their own players to participate, so fans can pledge money on their favorite player beards as well.  Fans can also view the beard-of-the-day, vote on fan and player beards, or build a virtual beard that they can send to their friends.  Finally, Beard-a-thon is also using Facebook and Twitter to help promote the program.
This is a great initiative, connecting a fun tradition and the excitement of playoff hockey with a wonderful charitable program.  I couldn't resist signing up myself, so you can click here to see my Beard-a-thon profile and make a pledge!  Thanks!