Sports Business Networking Event on Monday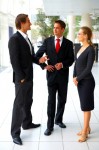 I know its not a lot of notice, but I'm attempting to organize a small meetup/networking event in New York City on Monday evening.  The details are still being worked out, but I think it could be a lot of fun and give everyone the chance to meet some great people. 
I'm also going to promote this event via Twitter, a sort-of Tweetup if you will, as well as LinkedIn.  If you are interested in attending or if you have any ideas on a location, leave a comment here.  Thanks!
UPDATE: We've set a time and location.  We're going to be at the Galway Hooker (by the corner of 5th Ave and E 36th St), starting around 6:30PM.  I hope we can spread this around and get a good turnout!