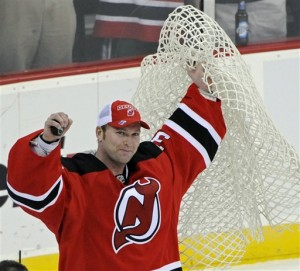 Last night, Martin Brodeur set the NHL goaltending record for most career victories with 552, one more than Patrick Roy.  This was an incredible accomplishment by one of the most talented and respected athletes in NHL history. 
The NHL, recognizing the rarity of this type of record-breaking event, is doing a great job in embracing Brodeur's accomplishment and getting fans directly involved in the celebration by launching a "digital celebration" on NHL.com, NHL Mobile, and across the Internet.  This includes:
Extensive coverage and video from yesterday's win, including reaction from teammates, opponents and fans
Exclusive video retrospectives on Brodeur's career
A dedicated section on Shop.NHL.com called that includes new products to commemorate the record
Asking fans to e-mail a congratulatory note or favorite memory of Brodeur to CongratsMarty@NHL.com, with the top entries displayed on www.NHL.com/brodeur and shared directly with Brodeur himself
Encouraging fans to visit the NHL's YouTube site (www.YouTube.com/NHL) and submit their own video or text message to Brodeur
Encouraging fan conversation on Twitter by using the hashtag #Brodeur
This is a very comprehensive "digital celebration," finding ways to integrate both fan-generated and league-generated content across multiple platforms.  These types of strategies can be implemented by any team or league to celebrate a significant event or milestone, and they are pretty easy to manage.  Congrats Martin, and nice job by the NHL.