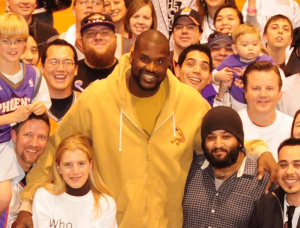 The Phoenix Suns are one of the most proactive teams when it comes to using Twitter in creative ways.  Here are some  highlights of what they've done so far:
They have multiple staff members all using Twitter, which allows them to be very interactive with fans and give their accounts distinct personalities while still promoting the team.  You can view a complete list of their staff Twitter accounts here on Suns.com.
They have three players also using Twitter – @the_real_shaq, @the_real_nash, and @jrich23, and Shaq is arguably the most popular user on Twitter today.
Recently when Shaq was out at a mall, he tweeted that the next person to come up to him and mention his "tweet" would receive free tickets to a  game.  They've also had Twitter trivia contests on the main Suns twitter account (@PhoenixSuns) to give away free tickets.
They hosted a Tweet-up, where people following the Suns Twitter accounts were able to buy discounted group tickets and get access to a very unique Suns experience.  Check out this video about the event:
They just celebrated Shaq Day – a virtual birthday for Shaq, where they encouraged other Twitter users to create Happy Birthday videos for Shaq and share the links on Twitter.  Each tweet was marked with the tag "#shaqday" so that people could easily find them.  You can watch the video that spawned the contest here, and one winner was chosen by Shaq himself to win a special prize.  We don't know the prize yet, but I bet that it will get a lot of follow-up exposure on Twitter.  You can see all of the participation in this virtual event by going to search.twitter.comand searching for #shaqday.
Yesterday during the Suns/Spurs game, they participated in a "virtual chant challenge" between themselves and the San Antonio Spurs Twitter account (@SpursDotCom). Followers of the two teams were encouraged to tweet about the game and include either "#GoSuns" or "#GoSpursGo" in their messages, while the official accounts kept track of the number of chants. I believe the Spurs technically won the contest, but both sides won by generating fan conversation about their teams.
Most teams are still trying to figure out the best way to use Twitter, and the Suns are definitely leading the way.  Their ideas might not work for all teams, but their work should help teams come up with their own creative ways to reach their fans through Twitter and social media in general.