Special Rules for Bailouts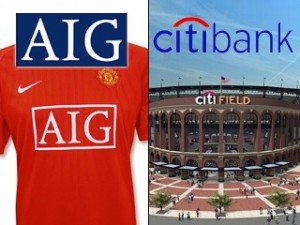 Imagine that you work for a multi-billion dollar corporation with a massive marketing budget.  You spend money on all different forms of advertising in order to reach your target audiences.  Now I approach you with a deal that will cost you between $10 and $20 million a year and will generate well over $50 million worth of media exposure, not to mention a direct impact on your bottom line of somewhere between $10-20 million (I'm am making up these rough numbers to make a point).  This seems like a pretty solid deal.  You are getting a bargain on the media value alone, along with a direct positive ROI.  Most companies are going to sign that deal.
Now, what if this company has been recently "bailed out?"  Even though there was an influx of government money to help their operations, the company still has to spend a lot on marketing and advertising to generate revenue.  So if one of those companies gets a hypothetical opportunity like this, with the same type of media value and ROI, they should still be expected to take it.  It makes good business sense.
Unless of course, that opportunity is a sports sponsorship!  Companies like Citi and AIG have received a great deal of public pressure regarding their major sports sponsorships.  There are constant rumors that Citi is being "forced" to back out of the CitiField naming rights deal, and after enough pressure, AIG ended their relationship as the jersey sponsor for Manchester United.  This pressure is unfortunate for both the companies and teams involved, as these deals can still make perfect business sense for both sides.  However, because the deals "look" excessive to the public, they receive backlash and are deemed to be "wasting" public funds.  The problem is that the public only hears about the costs and not about the value, and this only occurs with sports sponsorships.  You don't hear outcry about how much Citi is spending on their latest direct mail campaign or the cost of AIG's latest media buy.  I feel that there is a PR need to educate the public on the positive side of these deals, otherwise more and more companies will have to walk away from valuable sponsorships and teams will lose out on a critical revenue source.