Will The Cowboys Miss Out?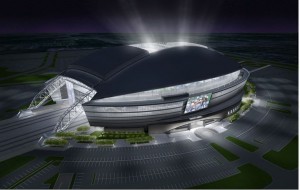 There was an excellent article in the Dallas Morning News yesterday discussing the naming rights prospects for the new Dallas Cowboys stadium.  To give a quick summary, the timing of the new stadium opening with the current recession will either force the Cowboys to take much less money than they originally planned, or they may go with a temporary name and wait for the economy to improve before signing a naming rights deal.  Dallas had been hoping for a New York-caliber deal in the $20+ million per year range over a 20+ year period, but no one is willing to commit to that type of deal right now.
I have to agree with the author that the Cowboys' best bet is to take the wait-and-see approach, but only because they are the Cowboys.  If anyone still has a chance to land that type of deal, its is a global brand like theirs.  Also, because of their top-tier revenue streams (not to mention the wealth of Jerry Jones), they don't have the pressure of needing naming rights revenue that some smaller market teams have.  Finally, they also hold an incredible bargaining chip in their pocket – the 2011 Super Bowl.  According to the article, the value of TV exposure alone for Raymond James, the naming sponsor of the Tampa Bay stadium, was over $37 million.  Combine this with their powerful brand, and within the year, someone will come around to their price tag…or at least close enough.