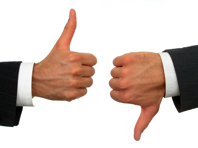 Here are my quick picks for this week:
Website:  StadiaTech.com – Over the past two decades, sports stadiums and facilities have implemented amazing new technologies, all in an effort to reduce costs, increase revenue and entertain fans.  StadiaTech.com is a great sports blog dedicated to discussing stadium technology and innovation.  Even if you're not on the facility side, there is a lot of valuable content offered on this site.
Book:  "Bargaining for Advantage" by G. Richard Shell – One of the best classes I had in business school was a course on negotiation, and this was the primary book that we used.  Negotiation takes place everywhere, from negotiating the terms of a sponsorship deal to negotiating your salary.  There are so many important things to consider within a negotiation, including individual personality, goal setting, norms, leverage, exchange of information, concessions, gaining commitment, and ethics.  This book is an excellent resource in better understanding this process.
Event:  Daytona 500 – The 51st Annual Daytona 500 is tomorrow (Sunday) afternoon.  This is one of NASCAR's biggest stages, and all of the usual stars (Gordon, Johnson, Stewart, Earnhardt Jr, Busch, etc.) will be in the limelight.  This has been a tough time for NASCAR with their dependence on sponsor dollars, particularly from the automotive industry.  They need to put on a good show and generate some good ratings if they want to attract some new corporate partners.
Do you have a good "pick of the week?" Use the Contact Us link at the top of the page and send me your picks!