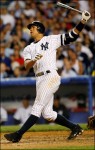 Clearly, the Alex Rodriguez steroids story is the biggest sports news story of the week.  Without dedicating too much time to the topic, I wanted to share a few quick thoughts:
Rodriguez learned from Bonds' and Clemens' mistakes by confronting the situation directly and honestly.  This gives him the best chance at "redemption."
If they wanted to, Rodriguez and the members of the MLBPA have a massive potential lawsuit against the MLBPA for violating their privacy and breach of contract.  Those tests from 2003 were guaranteed to be private, and MLBPA completely dropped the ball by not destroying those results immediately after the season ended.  I doubt this will actually happen, as the results would be disastrous for the MLBPA.
On that same note, Gene Orza's career is (or should be) over.  The decision to not destroy the results falls squarely on his shoulders.  Even if his intentions were good (checking for false positives), the privacy and security of the players needed to be his top priority.
The idea that only one name out of the 104 players was released is troubling. Rodriguez was singled out because of his success, while other equally guilty players get to pretend nothing happened.  This part of the story is not over, and since the government does have the complete list, I expect those names will eventually get out.
Rodriguez has about $30 million in his contract tied to breaking MLB records, including the career home run record.  Some people, maybe even the Yankees, will question these results and financial incentives.  If I was in charge of his PR, I would have him promise to donate any of those bonuses to charity, specifically programs dedicated to steroid education in youth sports.