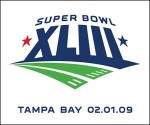 Now that the Super Bowl has come and gone, here are a few more business-related thoughts from the event:
Glued to their TVs: Approximately 95.4 million homes watched this year's big game, second only to last year's Giants/Patriots game.  I was curious to see what type of impact both the economy and the Cardinals would have on ratings, and neither seems to have had a major impact.  Advertisers seem to have gotten their money's worth.
Player Stock Rising: Santonio Holmes – Holmes went from a "fantasy sports fan" type of player to a household name after his MVP performance.  He's now in line to reap the benefits in endorsement opportunities. (I'd include Fitzgerald too, but his stock was already soaring because of the Cardinals' playoff run)
Players Stock Falling: Willie Parker and Adrian Wilson – This game was played through the air, leaving little opportunity for the Steelers' #1 running back to excel on the big stage.  Meanwhile Adrian Wilson, a terrific player who gets little attention, finally has a chance for prime-time exposure and does nothing of note.
Player Stock Rising AND Falling: James Harrison – One minute, he's running back an interception for 100 yards, the longest play in Super Bowl history.  The next, he's seen repeatedly punching an opposing player in the back when that player in on the ground, a clearly dirty play.  It's tough for defensive players to really claim the spotlight, and Harrison might have ruined a great opportunity.
Um, what was that? Apparently, viewers in Tucson, AZ did not see the typical post-TD celebration after Larry Fitzgerald's scored. The local NBC affiliate somehow accidentally broadcast about 30 seconds of adult content, including male nudity (thank you to SportsMediaWatch.com). NBC is blaming Comcast, and neither entity knows exactly what the cause was.
I'll share my thoughts and the best and worst of the Super Bowl ads later today or tomorrow.