"Me, Myself" Campaign from Adidas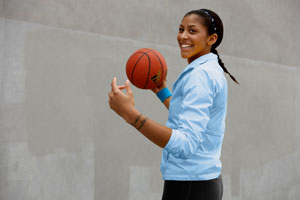 Adidas has put together a very interesting and interactive campaign called "Me, Myself" to support the launch of their new women's apparel website.  Visitors have the opportunity tobe the new "face of adidas" by entering a special contest, either through the website or in select stores.  Participants can upload their picture and share a personal, inspirational story that other visitors can view and vote on.  The site also allows for voting via an integration with Facebook and other social networking applications.  At the end of the contest, three winners will be chosen to be in a photo shoot with Candace Parker of the WNBA, and these photos will be the basis of many online and in-store marketing elements. 
This campaign looks like it has a lot of potential for several reasons:
A close partnership with Candace Parker, who is one of the most recognizable and successful female professional athletes
Combining online and in-store elements to reach consumers through multiple channels
Creating multiple interactive elements (entering the contest, voting, and making winners part of the campaign itself), which will better engage their consumers and website visitors
Connecting with successful social networking platforms to reach a wider audience
Using personal stories to build a deep and lasting connection to their brand
The campaign officially launched on February 1, and you can see the contest for yourself at www.adidas.com/women.