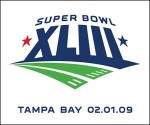 Super Bowl XLIII is almost upon us, and with the big game comes many interesting business trends to keep an eye on.  Here are some that I think are most interesting:
There is always an increase in the sale of high-definition television sets in the two weeks leading up to the game.  That trend will continue, but will there be a drop-off because of the economy?
What will this year's ratings be like?  On one hand, I'd expect them to be up because of fewer people hosting Super Bowl parties (meaning more homes watching the game by themselves).  However, the Cardinals also have a smaller fan base, which could cause the ratings to dip.
How will the ratings be during Bruce Springsteen's halftime show, and will Bridgestone get results from being the presenting sponsor of the halftime show?  (You can click here to try and predict his playlist)
Who will have the best advertisements?  And by best, I mean both the most creative and the most effective. 
Will there actually be more companies buying television spots, with larger companies not buying as many as they did in previous years?
What will the total economic impact be on Tampa?  Last year, the Super Bowl generated over $500M in economic benefit for Arizona, but we've already seen reports of fewer parties and sponsor events taking place, so spending will be down compared to last year. 
What other "super" business stories are you following this weekend?  Leave your comments!