Here is a email that I received first thing this morning.  The subject of the email was "Start Your Day with Better-For-You Choices."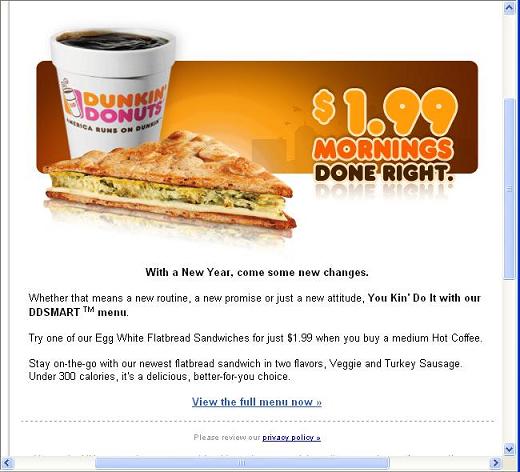 The question is, who do you think sent me this email?  The logical response would be Dunkin' Donuts, but even though I like their coffee, I have not subscribed to their email list.  Anyway, this email was not sent by Dunkin' Donuts, and it wasn't from some other mass-marketing list or spammer.  It was actually sent by a top-tier professional sports franchise, one that I did request emails from.  Any guesses? 
This email was sent by the New York Yankees, which is amazing because I do not see a single reference to the Yankees anywhere in this content, not even in the subject line.  The only things in the email that refer to the Yankees are the from-address ("From yankees.com") and appropriately enough, the unsubscribe message at the bottom.
I know I've written in the past about the challenges of involving your sponsors in your email marketing.  My main point has been that the email needs to connect with the fan because of their relationship with your brand (team/league/etc) and deliver a sponsor message that builds off that connection.  This email here is borderline spam – in fact, this is damaging to the fan relationship because the primary action it will drive is opting-out.  The Yankees might have the ability to get away with things that other teams can't, but abusing your customer database with an irrelevant sponsor-based, mass-marketing email is always a bad decision.