Interview with Christian Busch of Takkle.com

Today's post is an email interview I did with Christian Busch, Vice President of Marketing for Takkle.com, a social networking site geared around high-school football.
Christian, tell us a bit about yourself.
My background is actually quite far away from American High School Sports. I grew up in Germany and lived in London and Barcelona before moving to New York in 2002. Since then, I've really gotten into the American way of life and the Internet and decided to join Takkle after working in the Internet and mobile space at Bertelsmann and Lagardere for about 6 years. Takkle is at the forefront of social media and catering to the high school athlete community combines my passion for the Internet with my passion for sports.
It seems like all different teams, leagues, and sports companies are rushing to get their own social networking sites up and running.  Why do you think everyone is jumping into this arena now?
Social media is one of the biggest trends of this decade and everyone now wants to be a part of it. I believe that there's a right way for every company/team/league to participate in the social media revolution but the approaches really have to take into account the individual situation of the company. There's no "one size fits all" in social media.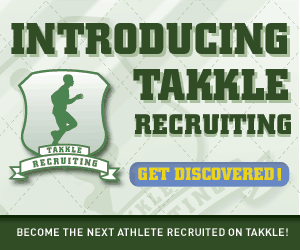 One of the issues I have is that, just because you offer a social networking service that's tied to sports doesn't mean you are providing enough value to pull users away from traditional social networking sites.  If you do enter the social networking world, what can a company do to create a real value proposition?
You're bringing up a great point. The time when you were able to just launch a plain-vanilla social network and hope for millions of users is definitely over. There are very few primary (Facebook and Myspace and to a lesser extent Hi5, Bebo, Tagged, Sonico et al.) social networks that have achieved critical mass. But there are plenty of opportunities for niche social media sites that can provide a combination of content and utility to audiences. That's why we at Takkle launched Takkle Recruiting last month and will continue to provide value to our users by helping them reach their goals and entertain and educate them with relevant content.
OK, once you get users to believe in your service and commit to it, how can you monetize it, and does the strategy change if you are a team vs. a league vs. a company like Takkle?
The monetization strategy for us consists of several revenue streams such as advertising, lead generation, market research and down the line also charging users for certain services we are going to provide. The approach for a team or league might be much more based on expanding sponsorship opportunities, increasing sales of tickets and merchandise and promoting the team/league to new audiences.
What do you see as the next "big thing" for sports on the web?
To me, the next big thing (besides of course Takkle Recruiting for high school athletes) is going to be to take the interactive conversation about sports online and mobile to the next level. Imagine live-sharing of clips in a stadium during a game and discussing the replay with tens of thousands of fans while sitting in front of your HDTV.  For sports fans, mobile holds tremendous promise.
One last question – in two to three sentences, what is the purpose and mission of Takkle Recruiting?
The purpose of Takkle Recruiting is to help qualified high school athletes get discoveredby college coaches and help them to really make the most out of their athletic potential. We launched the first phase of Takkle Recruiting in December and very thrilled with the results: more than 5,000 RecruitMe sheets were created by athletes within the first few weeks! We're already offering athletes the ability to create their free RecruitMe sheet and get into the Recruit-Match database of high school athletes maintained by our partner, the National Collegiate Scouting Association, that is accessed by more than 30,000 college coaches in the country on a regular basis.
Thanks again to Christian for taking the time to do this interview. Social networking is an important topic in sports marketing today, but just building a social networking platform and expecting people to join is not viable. Any site geared around social functions needs to have a well-defined strategy and a unique advantage that is unavailable through traditional social networking sites. Takkle may have found that unique advantage in combining their recruiting functions with a passionate, young customer base.