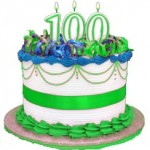 That's right, this is officially the 100th post for TheBusinessOfSports.com.  I'm excited that the site is continuing to pick up steam, and I hope that all of you find the posts informative and entertaining.  One of the things about blogs that I find interesting and challenging is how quickly the content ages.  Someone can write a great post, and yet after a few days, the post is "lost" in the back pages of the site.  So in honor of this being the 100th post, I'm going to link back to a few of my previous posts that I really liked so they can get a little more attention!
"Staying Productive Today" (3/20/2008) – This was a post about how companies react to the free live streaming of NCAA March Madness, and suggestions on how to take advantage of the event instead of trying to block it.  This was also one of my very first posts!
"To Bonds or Not To Bonds" (8/22/08) – This post was spawned by a friendly discussion on the business-impact of a team deciding whether or not to sign Barry Bonds.
"Never Stop Measuring" (9/5/2008) – I'm a firm believer in measuring EVERYTHING, and this post discusses why and some suggestion on how to do it.
"The Real ROI" (9/11/08) – A post about how you really determine ROI and why I think it is the best measure of sponsorship value.
"Idea for NFL's 17th Game" (10/24/08) – A review of my friend's proposal for adding an AFC/NFC rivalry game to the regular season.
"Basic Economic in Sports Today" (11/17/08) – Application of some basic economic principles to today's sports marketplace.
"Another Step in Internationalization" (11/20/08) – A review of the international efforts of the four major U.S. sports leagues.
Finally, please take a second and vote in the poll on the right so I can get an idea how valuable the blog content has been to date.  Thank you all again for your support of the site.  I'm looking forward to the next 100 posts and more!