Dear JoePa, Happy Birthday! Love, the Internet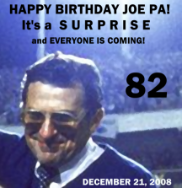 Normally when you wish someone a happy birthday, you call them, send them a card, or for the more Internet-focused, you send an e-card or write on their "wall." Well, what if you have a larger-than-life public figure that hundreds and thousands of people would like to say happy birthday to? That is the perfect recipe for a massive viral campaign, and that's exactly what's happening right now with Joe Paterno's 82nd birthday.
Penn State fans on Twitter created a new blog (www.joepabirthday.blogspot.com) dedicated to celebrating JoePa's birthday, and the URL is getting passed around the Internet very fast.  The blog is encouraging fans to submit their own favorite JoePa moments and happy birthday messages, so the blog is very interactive.  They also put together an image and link that fans can post online to help spread the word even more.  Finally, some of the best submissions will win PSU merchandise (I don't know if the University is assisting in this part, but they definitely should!).
While this was a fan-generated initiative, there is no reason why teams can start their own similar promotions based around significant events like this or help support existing fan-generated ones.  And even though there aren't any catchy videos or new technologies involved, this is definitely a viral platform.  Great job by those who created/supported this, and of course, Happy Birthday JoePa!