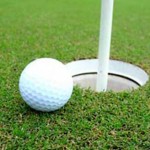 I've written about how the economy is impacting some of the major and minor professional sports leagues, but what about sport at a participation level?  I don't think the economy is keeping kids and adults from playing basketball, football, or baseball/softball.  However, the one participation sport that seems most vulnerable is golf.  Let's think about some of the attributes that fit with golf:
The demographics are primarily middle-aged, white, middle-to-upper class males.  Of course, this is also one of the demographic segments that has been hit hardest by the crashing markets.
Golf is an expensive sport to play, with the costs of equipment, clothing, and greens fees.  As personal entertainment budgets get reduced, it is hard to justify the cost of the game.  It will also be hard to justify the expense of equipment for young players that want to learn the game, which could have a longer-time impact on the sport.
Golf is also a time-consuming sport.  With a down economy, people are less willing to set aside a large chunk of time, particularly during the work day, to play a round.
The golf course is "where business happens." Well, there's not much new business happening, which means fewer "meetings" on the links.
Chris from Arizona State passed along a great MSNBC article from earlier this month that goes into much more detail on the troubles for the golf industry.  In particular, there are more course closings and fewer new courses being developed, which ties directly back to problems in the real estate world.  The article talks about how the housing market has reduced new development, since many courses are tied to new housing development. 
I think its reasonable to conclude that of all the different sports to take part in, golf is the one that will fluctuate very tightly with market conditions.  But are there others that you also expect to suffer?  Let me know your thoughts in the comments!