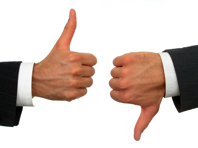 Here are my quick picks for this week:
Book:  "The GM: A Football Life, a Final Season, and a Last Laugh" by Tom Callahan – The original subtitle for this book was "The Inside Story of a Dream Job and the Nightmares that Go With It," but that was before the Giants shocked the football world and won Super Bowl XLII.  This book is a particularly interesting read in light of what the Giants have done the last two year.  The author write about Ernie Accorsi's last year as the Giants GM, and touches on many different topics, including player evaluation, team dynamics, and how the game has changed over time.
Article:  "What the Rise of Southern Football Says About America" on WSJ.com – A very good article on the evolution of college football in the South, particularly for the SEC.  The author touches on many different contributing social and political factors.  Understanding these cultural elements are always important on the business side, so I believe this is a very relevant and useful article.
Teams:  Texas Longhorns and Oklahoma Sooners – I didn't write anything this week about the Big 12/BCS controversy that sent the Sooners to the Big 12 Championship game over Texas, even though Texas beat OU head-to-head.  You can find PLENTY of articles arguing back and forth over who should be playing tonight and in the BCS Championship.  Either way, a series of computers has decided the fate of millions of college football dollars.  However upset Texas might be, the irony is that they should now root for the Sooners to win tonight, since OU playing in the BCS Championship will help all Big 12 schools financially.  (Update: I may have jumped the gun in suggested that Texas needs to root for OU. If OU loses, either Texas or USC will play Florida in the BCS Championship.)
Other:  NHL Winter Classic 2009 – Last year's NHL Winter Classic was considered a complete success.  Great attendance, strong ratings, lots of publicity, and an entertaining game.  This year, the Detroit Red Wings and Chicago Blackhawks (two of the original six teams) will face off on New Years Day at Wrigley Field.  The NHL is putting a lot of weight behind this event – they've even created special throwback jerseys for the game which are selling well on the NHL Shop website.  The NHL might not have the same game-to-game interest that the other three leagues have, but they have created a unique, must-see regular season event, something that the other leagues have not done.
Do you have a good "pick of the week?" Use the Contact Us link at the top of the page and send me your picks!