TheBusinessOfSports.com Update and Thank You!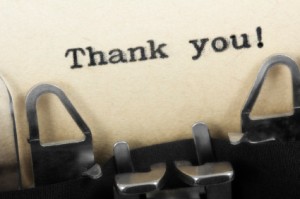 First off, I want to say thank you to everyone that has been reading the blog.  We've been getting between 100 and 200 visitors a day, and our subscriber count keeps going up.  My biggest goal for this site was to make it an interesting and valuable resource for people working or interested in the sports industry.  The site is definitely getting there, but there is so much potential to grow.  That is where you come in!
I've gotten some great feedback from readers, and the majority of it is positive, so that means you all hopefully like the blog.  If that's true, please help out and tell your friends and colleagues about the site.  There are many ways to help spread the word.  At the bottom of every post, there is an "Email This Post" link if you want to share a particular article.  There are also social networking and bookmarking links on each post, which will let you share articles on Digg, Del.icio.us, StumbleUpon, Facebook, MySpace and more.  And of course, you can just tell others about the site – luckily, it has a nice, easy-to-remember URL!  While this may come of as blatant self-promotion, I truly believe that the more visitors the site has, the more comments and discussion are generated, and the more value the site offers to all of the readers.
In the meantime, I have a couple of other announcements about the site.  We have our first official partner in SportsCareers.com (you will see their logo on the right side of the page).  SportsCareers.com is our official career development partner.  The site offers a lot of unique and valuable content on building and managing a career in the sports industry, everything from job postings to industry profiles to their opportunity development plan, which is a customizable system to develop and track individual tasks and goals that will lead to career success.  I've helped out with the site a lot, and I believe in it completely.  Along this line, I will be announcing a contest of sorts soon where the winner will receive a free, one-year membership to SportsCareers.com – stay tuned.
Also, I am exploring the idea of having some occasional guest bloggers.  There are a lot of brilliant people in this industry and I would love to give them the chance to share their knowledge here.  If you are interested in being a guest blogger, please let me know by using the "Contact Us" link at the top of the page.  Finally, I am also in the planning stage of launching a podcast to go along with the blog.  The podcast will revolve around interviews and discussion with other industry professionals, so keep an eye out for that in the coming weeks.
Again, thank you to everyone who is helping to make this site a success.  I want to keep this going strong for years to come, and I cannot do it without great readers like you!