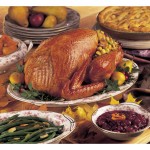 I want to wish everyone a very happy Thanksgiving today.  Enjoy plenty of turkey, time with friends and family, and of course, some Thanksgiving football! 
Personally, I am thankful for my fiancee, my family and friends, getting to work in an industry I'm passionate about, and for having great blog readers like you!  I hope you all have plenty to be thankful for as well. 
I know we keep the content here focused on the business-side of sports, but since its a holiday, here is a fun clip of last year's "Thanksgiving Turkeys" from PTI.  Have a great Thanksgiving everyone!