Using the Holiday Season to Sell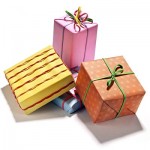 By now we have all realized that the current economy has put a damper on ticket sales.  People that bought premium inventory may have downgraded to cheaper seats, and some of the regular ticket buyers aren't buying at all.  However, with the winter holidays (and Black Friday) right around the corner, there is a definite opportunity to pick up some revenue momentum.
Even though many families have cut back on their discretionary spending, there is a good chance that they've still put aside money for the holidays.  People are still going to buy gifts for dad, the kids, family, and friends.  The challenge is to communicate to your customers the idea of buying tickets and merchandise for their holiday gifts.  It doesn't matter whether your sport is in season or not.  Make sure your fans know that the best gift they can give is the gift of sports.  Here is a great commercial from the NHL that relays this message (with a nice touch of humor):
There was another one from NFL Shop I really liked, but I cannot seem to find it online anywhere.  Here are a few examples of teams that have put together holiday packages to really take advantage of this seasonal selling opportunity:
I think the most effective holiday products will be packages that combine a physical gift (merchandise or collectibles) along with tickets.  Any sports fan would love to receive that type of present.  Teams need to make sure they are position to offer some type of holiday package to take advantage of the gift-giving season.  It may be the one time this year when people are willing to spend money!  And on that note, don't forget to put together a Black Friday offer either, whether its a in-arena/in-store offer or simply an email-based promotion.  People are going to spend money on Black Friday – make sure that they have a good option to spend it on your team!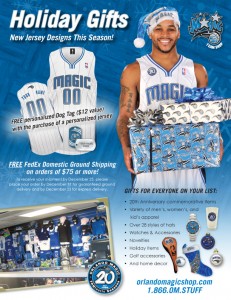 Update:  About ten minutes after posting this, I got a great holiday-themed email from the Orlando Magic.  Here is the image from that email.  Using players dressed in the holiday spirit is a great touch and helps send the right message to customers.