Basic Economics in Sports Today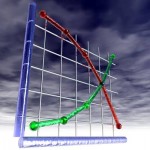 I was thinking more about the economy of sports, so I decided to write about some of the basic concepts and apply them to the current situation.  I know I am oversimplifying some of this, but I think its an interesting exercise nonetheless.
Law of Demand:  As price increases, demand decreases.
Result:  Ticket prices have increased significantly over the past decade.  This increase had been consistent with and driven by the demand, as seen in the high degree of sellouts across the major sports.  However, price increases over the last two years have been met with a drop in attendance, meaning that sports has passed the equilibrium point.
Law of Supply:  As price increases, supply increases.
Result:  Over the past decade, the actual number of sports and sporting events have increased along with prices (the only ways to increase supply are expand stadiums or host more events).  This increase included extreme sports (X Games), niche sports (PBR), and international exhibitions (Olympic sports & soccer).  Now with the drop in demand and ticket prices, we are seeing signs of the supply dropping (e.g. my previous post mentioned the cancellation of the Tour of Georgia).
Price Elasticity of Demand:  Demand is "inelastic" when the quantity demanded decreases slowly relative to a price increase.  Demand is "elastic" when the quantity demanded decreases faster relative to a price increase.
Result:  We have seen price elasticity in sports shift from fairly inelastic to more elastic over the past two years.  There are several things that impact this shift, including substitute products (more sports and entertainment alternatives mean people will choose other options when prices increase), % of income (as ticket prices equate to a larger % of income, people become more resistant to price increases), and necessity (tickets are not a need while other needs have also increased in price, thus there is higher resistance to ticket price increases).
Again, I'm just looking at some very basic concepts, without considering the multitude of other important factors.  While there are a lot of "negative" news items related to the economy, it really is not surprising when you drill down to the basics.  Sports has overshot its economic equilibrium.  Adjustments will have to be made across all of the different sports, starting with a basic reduction in price, supply, or both, until we get back to a more stable equilibrium.