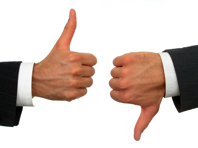 Here are my quick picks for this week:
Books:  Ice to the Eskimos and Marketing Outrageously by Jon Spoelstra – Both of these books are excellent reads on the sales side of the industry.  Jon has an amazing talent for creative and effective approaches to selling everything, from tickets to sponsorships.  There is a bit of repetition between the two books since they do have common principles, but anyone on the sales or marketing side of sports should read both of these titles.
Website:  Twitter (twitter.com/rscibetti) – I've been using Twitter a lot more yesterday to promote the blog and learn about interesting topics from other "Twitterers."  The site offers another communications channel to reach your fans and customers at NO cost (other than your time).  Some teams have already started using Twitter to reach their fans, and more teams should start using it!
Team:  Texas Tech Red Raiders – I am writing this early in the day on Saturday, so there is a chance that they could lose tonight to Oklahoma State.  Regardless, this is by far the most successful football season in the school's history after their win last week over Texas.  They are a legitimate contender for the BCS National Championship, which would be a HUGE revenue boost for the school. I'm sure that their success so far has already had a tremendous impact on ticket and merchandise sales, and will probably have a carryover effect on the other sports as well.
Other:  Will Ferrell and USC – Just in case some of you haven't seen this video already, Will Ferrell was part of a Halloween prank at a USC practice.  Now clearly this was meant to generate some laughs for the team, but it turned into a great viral video on YouTube.  It pays to always video tape events like this, because you never know what will take off on the Internet.
Do you have a good "pick of the week?" Use the Contact Us link at the top of the page and send me your picks – I could really use some suggestions!!!