A Truly Interactive Campaign from Gonzaga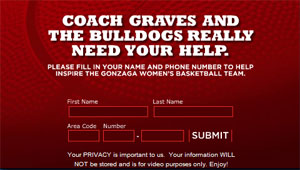 Gonzaga is running a campaign called "Inspired Season" which is one of the most innovative and interactive marketing campaigns that I have seen.  Before you read any further, please go to www.inspiredseason.com and enter in your name and phone number to experience it for yourself (your information is kept private and is not used for additional marketing purposes, which is actually a BIG sacrifice on their part, as they could really grow their database with this campaign).
Now that you've experienced the video, what did you think?  I came away very impressed and the quality of the production and the message they chose to focus on.  You, the viewer, are the center of this campaign.  You come away from the video with a closer connection to the school and the women's basketball program.  If I lived in the Washington area, I have to believe I would be much more inclined to come out to a game after watching this.
The campaign also has great viral potential.  I know that I emailed several friends and colleagues about this, and now I'm taking the time to write about it.  They give the viewer an easy way to share the video with others through social media link and an email link.  They might want to add other social networking links (MySpace, Delicious, etc.) or provide an easy form to email the video to others (which would also let them collect names and email addresses).  Even without these elements, the campaign is so unique and engaging that it should spread virally regardless.  Great job by Gonzaga – it won't be long until other schools and teams copy their efforts.
Update: PartnershipActivation.com also wrote about this campaign recently, and the post includes the name of the partner agency (in case you are interested in exploring this type of campaign yourself).