A Night with the President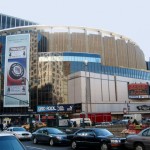 Madison Square Garden is hosting a pretty interesting event on Tuesday, December 2 called "Night with the President".  Scott O'Neil, the President of MSG Sports, is going to give a talk is the WaMu Theater on "breaking into and being successful in the sports industry" – a topic that he clearly knows quite well.  Scott is well known for his work with the NBA's TEAMBO group, and has now taken on one of the highest profile positions in the industry.  Tickets are $30 each, and also includes admission to that night's Knicks game (so this event doubles as a nice sales vehicle for the company).  I may try to attend this event, and I'd encourage others in the New York area to attend as well.
Other Newsbytes:
The NHL is offering another free trial of NHL GameCenter Live tomorrow, October 30.  I still think their price point is a bit high, so this additional free trial might be a sign that they're not hitting their subscription goals.  I do really like the service, and hope it does well for the league.
I am starting to use Twitter a bit more, and I update my account whenever I add a new post.  If you use Twitter, please follow my "tweets" and I will do the same!
Finally, if you work for a sports league/team/organization and would like me to write about your current events, please add me to your press release distribution list.  Use the "Contact" link at the top of the page and I will get back to you with my contact information.