The Power of Text Messaging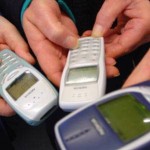 Buried in today's news story about whether or not Brett Favre helped the Lions was a little tidbit that I have to comment on.  This quote is pulled from an article on ESPN.com (10/22/08):
"After the FoxSports.com report surfaced, Favre issued a denial via text message on Sunday, which was reported by Peter King on NBC." 
Apparently, Brett Favre is a big fan of text messaging!  If I remember back to his preseason issues with the Packers, he was also sending text messages then to update members of the media.  I think this is quite a statement on both the adoption and power of text messaging as a communications platform.
Tying this back into the business side, a friend of mine just send me a report from eMarketer (10/20/08) that shows how mobile users spend their time, and as you could guess, text messaging (specifically SMS) is the most popular activity at 53% of all mobile content users.  Clearly this is a communication medium that your fans (and apparently your players) are now very comfortable with.  Teams need to make sure they are collecting mobile alert opt-ins just as they would email opt-ins and start offering valuable text messaging based services such as score updates, last minute ticket deals, and news alerts.  It is critical that you use the right channels to reach your customers, and text messaging should now be considered a required channel!