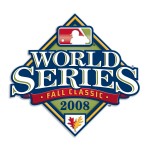 After many months, we have reached the 2008 MLB World Series.  Congratulation to the Tampa Bay Rays and the Philadelphia Phillies – clearly, there were the two teams that everyone expected to reach the series when the season started!  Regardless, now that they've made it, here are some of my World Series thoughts:
As I've mentioned once already, this is definitely not the matchup that MLB wanted from a ratings perspective.  The league should be going PR-crazy this week to really sell the story of the underdog Rays and diehard Philly fans to drive some additional media interest.
Philadelphia has come alive the past couple of weeks supporting the Phillies.  The city is desperate for a major championship (they haven't had one since 1983).  Every local business should be trying to capitalize on the team's success.  Big spikes in merchandise sales and even tourism should be expected.
Speaking of merchandise, the Tampa Bay Rays picked a great year to change their look and should also see a big spike in merchandise sales.  I don't think the city of Tampa will show as much of a financial windfall as Philadelphia.
The Rays (team salary = $43M) are built on young, low-cost players in multi-year contracts. Without holdouts, they are in great shape to manage their salary costs into the next couple of seasons while keeping the core of the team together. 
The Phillies($95M) the other hand have some expensive vets and stars.  Some of these salaries will come off the payroll next season (Burrell for $14M), while others are locked in at a premium (Utley at $15M per) or even worse, are eligible for arbitration (Cole Hamels).  The Phillies will have many payroll/roster issues to maintain this team.
MLB and its teams do a great job with game presentation, especially on the biggest stages (this year's All Star Game comes to mind).  I am excited to see what the pregame festivities are like for game 1.
All the games are schedules for 8PM starts.  I guess it could be worse, but knowing how many commercials there are going to be, the games are going to easily hit midnight.  Since both teams are on the east coast, 7PM starts or maybe even a weekend afternoon game would be great, but I don't think we'll see that happen ever again.
That's it for now.  I think this series has a lot of potential for great storylines and great baseball.  I just hope that the national public turns on the TV and watches!