Sideline Star – An Untapped Sports Market
Two of my former classmates from the Arizona State Sports Business MBA program have started a cheerleading-focused web business called Sideline Star.  I think the business has a lot of potential, so I asked Leslie Reedy (one of the co-founders) to tell us a bit more about the site:
---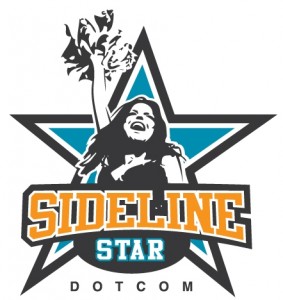 While some may argue that cheerleading should not be classified as a sport, there should be no doubt as to whether or not there is big business behind the activity.  There are over 14 million cheerleaders in the U.S. alone, accompanied by the coaches, vendors, choreographers, and admirers of the industry.  Similarly, marketers are drawn to this niche because cheerleaders are social creatures by nature and often very influential as far as purchasing. It only seems natural that this group should have their own online community, a place that understands who they are and what they want.
Bring It On-Line:  Social networking sites such as Myspace and Facebook have been met with widespread popularity in recent years.  While it would be easy to simply replicate the basic features, this does not guarantee that the staggering number of users will follow.  The competitive advantage of SidelineStar.com is its potential to serve their audience in a variety of new ways that are specific to this niche.  For example, this space will offer references for safety regulations, a cheerWIKI, calendaring systems for the squads, fundraising through "virtual bake sales" with customized team stores, recruiting tools for coaches, SMS text messaging and video downloading capabilities; these are just a few of the ways SidelineStar.com will differentiate itself from other social networking sites. 
Getting A Jump Start:  So we have knowledge of the industry and identified areas where SidelineStar.com could greatly benefit this market– now how can we begin to capitalize on the opportunity?  There are three equally important things that are critical for turning an idea on paper into a fully functioning organization: product, funding, and demand.  While these three things may certainly occur in any order, we have found that pursuing them simultaneously in stages is beneficial to what we are trying to accomplish.  By receiving a substantial amount of grant money from ASU's Edson Student Entrepreneurial program, we were able to build the bulk of our product – the website – that will include some of the "sticky" features mentioned earlier. At the same time, management has invested a tremendous amount of sweat equity into marketing efforts, brand management, and awareness in order to drive traffic to the site.  As a result, we are able to showcase a product-in-progress with proven demand; in turn, investors are more likely to provide additional or 2nd round funding, which will enable further growth, and the cycle continues. 
Let's GO 2.0:  The cheerleading market has been underserved in the interactive online community; everything has been static or 1.0…until now.  SidelineStar.com has several business development strategies that will assist in generating traffic, the primary driver for every one of our revenue streams.  One way we plan to accomplish this is by using other successful social networking sites to feed users to our site. In order to promote the launch of our site we will be having a contest where teams that use the tools on the site the most will be rewarded with more entries.  One team will be chosen each month to win prizes comprised of in-kind donations from our sponsors such as a Nintendo Wii and the new All Star Cheer Squad game.  We also host LIVE! Clinics where Sideline Star staff teach cheers and routines to young cheerleaders across the country and post their pictures and video performances online, which will prompt  them to create profiles and invite others to view them as well.  Sponsoring local, regional, and national competitions is another marketing strategy we look forward to starting in the near future. 
By driving high traffic figures, we also become highly visible to corporate sponsors.  It's a well known fact that customer loyalty is important for any company, but a loyal customer with an influential reach can be extremely lucrative.  This is especially true when you realize the impact globalization is starting to have on the industry. Western cheerleading is already popular in countries such as China, where there were cheerleaders at every event during the Beijing Olympics this past August.  For reasons such as this, it is crucial to continually evolve strategies all while prioritizing and executing those things that will help us reach important benchmark goals.  However, we also know that our success is directly related to our knowledge of and passion for cheerleading, which makes us very excited about SidelineStar.com and what it can mean for the "sport."
Leslie Reedy
CFO/COO of SidelineStar.com
Arizona State Sports Business MBA Program, Class of 2008