Partner Email Promotions the Right Way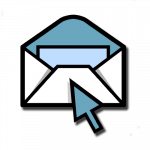 One of the most valuable resources that you have, and that your corporate partners want to use, is your customer list.  When a company decides to sponsor your team or organization, there is little doubt that they want to communicate directly to your customers, most likely via email.  To that note, the amount of partner-focused emails has significantly increased in the last couple of years.  As the team/organization,  you need to balance the increased sponsorship value of giving this direct access versus the downside of driving your customers away, as unsubscribes and opt-outs are substantially higher for these types of communications.
I want to show a good and bad example of a partner-driven email that I've received.  First, I'll start with the bad – this email came from the Los Angeles Lakers: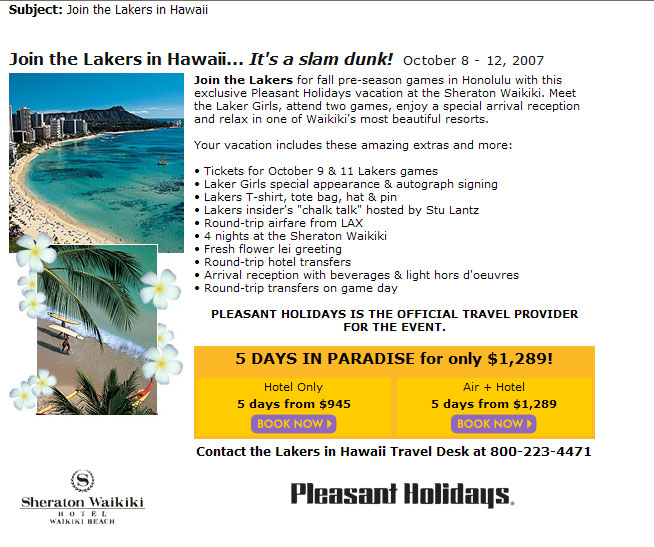 (NOTE: I could not find the email that I was originally thinking of, but this one is similar.  The original was actually worse than this.)
This email comes off as little more than sales pitch, which is ok if I'm in the market for a Hawaiian vacation at this moment.  But if I'm not (I wasn't), than I'm very likely to unsubscribe or even mark this as spam.  There is hardly anything that connects this to the Lakers or my status as a Lakers fan other than some of the bullet points that are part of this package (for the record, I'm not actually a Lakers fan). 
Now here is a good example of a partner-driven email that I received yesterday:
The focus of this email is clearly on Coke Zero, but it is delivered by content that is very relevant (this went out to a NASCAR email list).  This email is connecting to me as a race fan.  And beyond just interesting content or imagery in the email, I can actually go play a racing game!  So this email is more visual, relevant to my status on the email list, and becomes interactive through a fun game.
If you are going to give your partners the ability to directly email your fans, make sure that the content always ties back to the reason they are fans to begin with.  Avoid "spam-ish" product pushes, and your subscribers will stay subscribers.