Power 100 from BusinessWeek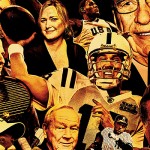 On October 2nd, Business Week will release their "Power 100" rankings of the top 100 influential people in sports.  This is always a good read – you can click here to see their 2007 list.  The list contains players, owners, executives, and more.  Last year's #1 selection was Roger Goodell, which I think was a pretty good decision considering all the attention on the NFL after his transition to the Commissioner's office (Pacman Jones and other off-field incidents, the Patriots, NFL Network problems) and how he quickly became more publicly visible compared to his predecessor. 
This year, I think the favorites would have to be David Stern (esp. after the Donaghy issues), George Bodenheimer, or possibly LeBron James (I would think he'd be the top player on the list, only because Tiger has been out of the spotlight lately).  In the meantime, BusinessWeek has a nice profile of Stan Kroenke, owner of the Denver Nuggets, Colorado Avalanche and the Pepsi Center (9/20/08).  There's no doubt that marrying into the Walton (Walmart) family helped his pre-sports career, but since then, he has quietly turned into one of the most successful sports owners in the business.