Ticket Sales in a Tough Economy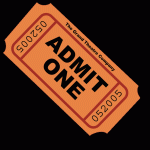 Tickets to sporting events are considered a luxury item by most consumers, so in a time of economic downturn like we are experiencing now, convincing consumers to buy can definitely be a challenge.  So what are some ideas you have to combat this?  Here are some of my thoughts:
Increase the "relative" value of the ticket – This is a time to really push tickets that include free food, merchandise, parking, etc.  If the buyer feels that they are getting more than just the game ticket, and therefore don't need to spend money on all the additional items, it should be an easier sell.
Offer gas-related promotions – Many teams have already done a great job of connecting ticket discounts to the cost of gas (the Twins and Braves come to mind first).  This is turning an economic negative into a positive with the fan and shows that you understand the difficulty they are having.  This connection will lead to more sales.
Provide top-tier customer service – When you do get the fan in the arena, you must go above and beyond to make sure they have a positive experience.  The poor economy is already giving them enough reason not to buy the ticket – any additional negative elements will drive them away for much longer!
Retention, retention, retention –  It costs between 6 and 10 times as much to create a new customer than keep an existing one.  Really focus on existing relationships for your sales efforts and you will see better results.  This is also a good time to reconsider some of your franchise's fan loyalty initiatives.  What can you offer your fans, in and out of the arena, to continuously connect them with your brand?
Use your partners– This is a great time to get your partners more involved.  Come up with some creative contests or unique giveaways to make the game more than just a game.  Give your fans a chance to win a vacation or a car (hopefully a Hybrid), or give out some giftcards.  If you can go beyond the traditional bat day or keychain, it can give the buyers that last little push they need to splurge on the tickets.
What are some of your ideas?  Share your comments, and good luck with your sales efforts!