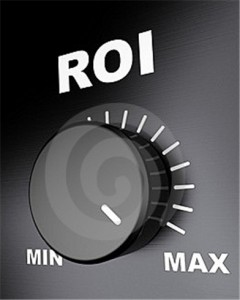 So your company just paid $1 million to become a sponsor of Team X for the calendar year.  At the end of the year, you tally up the value of all the exposure you got from being a sponsor.  The guaranteed television advertising, the press releases and news coverage, the radio spots, the website impressions, the signage viewers, etc.  At the end of all your adding, you find out that you got $3 million worth of exposure for your $1 million sponsorship.  Wow, that's a 3 to 1 return on your investment, otherwise known as ROI. 
Well, actually it isn't.  What you just calculated is the media value of your sponsorship.  All this is telling you is that you got a great value on your purchase.  You essentially saved 67% off the regular price – not bad at all. This value is easily confused with and mislabeled as ROI.  The question is, how can you determine what your ROI actually is?
Without going into all the details, your ROI is your actual bottom-line, dollar return divided by your costs.  So lets say that you can accurately determine that, because of your $1 million sponsorship, your sales increased by $5 million, compared to the previous year when you were not a sponsor.  Does that mean your ROI is actually 5 to 1?  No, but we're getting closer.  Your sales increased by $5 million – a substantial increase.  But your profit margin is only 50%.  The results is that your ACTUAL return on your investment is $2.5 million – an ROI of 2.5 to 1.
So what does all of this mean?  Here are the key takeaways:
Do not be fooled by measurement labeled as ROI that are not ROI.  ROI comes down to bottom-line impact on profits (not sales, profits!)
Calculating ROI can be difficult.  You need to put systems in place that will accurately measure what profits can be directly attributed to a sponsorship.  This is a challenge, but its not impossible.
With corporate budgets tightening every day, companies need to really focus on metrics like ROI.  If your team or agency can help get to those numbers and demonstrate a real return on a company's investment, you will keep them as a partner and a client.