Evolution of "Naming" Rights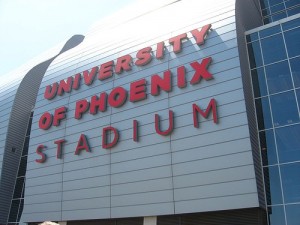 In the past 20 years, the majority of professional sports facilities have had their traditional names replaced with those of large corporations.  This has become an acceptable norm and a large revenue sources for the teams and facilities.  In fact, in some cases where the team didn't want to change the facility name, just the field itself was named (Invesco Field at Mile High Stadium).  However, teams were still looking for big-time sponsorship revenue on a similar level.   So next on the plate was "presenting sponsorships" – for example, the Arizona Diamondbacks, presented by Gila River Casinos.  This was a unique approach because you now attach a brand with the team as a whole, rather than the stadium, but the drawback is inconsistent exposure vs. the consistent reference to a company name in a naming rights deal.
The latest extension of this has come with newer stadiums that want to keep the team branding in the name, but still want this large revenue stream.  We now have "Built By" deals, the latest of which is the "Red Bull Arena, Built by Makita."  This is a great opportunity for Makita, since they have attached with the new facility literally from the ground up. 
This new type of "naming" deal has me wondering what other extensions of this model there could be.  Here are a couple of ideas, and I'd love to see other ideas in the comments:
"Managed by" – could connect to financial or consulting firms
"Designed by" – very similar to the "Built by" concept
"Treated/Trained by" – the health and fitness industry would like to associate their services to pro athletes
"Supported by" – a bit generic, but similar to the "Presented by" concept