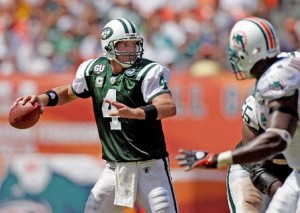 The Brett Favre era in New York has officially begun on a positive note, at least in games that count in the standings.  There is no doubt that Favre should lead to a better product on the field for the Jets this season, but what type of impact is Favre going to have on the bottom line for the Jets, for the Packers, for the NFL, and for himself?  Here are my basic projections:
For the Jets:
Significant increase in merchandise revenue (jerseys, shirts, etc.).
Minimal regular season ticket revenue impact (Jets games sell out anyway).  Potential significant playoff ticket revenue, and a positive long-term ticket sales increase.  It's great timing as they move into the new stadium next year.
Significant increase in short-term sponsorship. What company wouldn't want to associate with Favre, especially in the Big Apple?
For the Packers:
Slight dropoff in merchandise revenue.  Favre jersey sales will drop off somewhat, but Rodgers sales will increase and Favre jersey will probably continue to sell on some level.
No change in regular-season ticket revenue, short or long-term.  Possible impact on playoffs tickets revenue, pending the results of the Aaron Rodgers project.
Minimal dropoff in sponsorship revenue.  Some will back away with the loss of their QB icon, but the Packers remain a powerful brand without Favre.
For the NFL:
Large increase in media exposure for short-term media rights deals (I don't know if they have any of these).  There should be no long-term change, as Favre will most likely retire before their current contract ends, one would think.
Small increase in sponsorship revenue at a league level because of the increased media exposure of the NY market.
For Favre:
LARGE increase in personal appearance and marketing revenue.  Being in NY should open the flood gates for corporate offers.
No change in long-term NFL revenue.  Favre was going to get a nice post-retirement contract from the Packers regardless of his NY stint.
Overall, the biggest impact will be on the merchandise side, considering that 20,000 new jerseys were sold in the first 48 hours after he was traded (via NJ.com, 8/9/08).  All parties should end up winning financially from this trade, with Packers playoff revenue as the only potential loss (and that might work out well anyway).