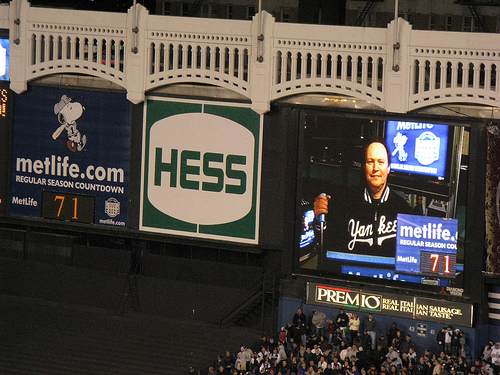 While attending the Yankees/Red Sox game on Tuesday night (the Yankees unfortunately lost), I was looking around the stadium at all of the corporate signage.  There is quite a lot, from the smaller, backlit signs between decks around the stadium to the massive flat signs behind the bleachers.  However, there were a couple that specifically stood out that I thought were more effective in getting fans' attention.  These signs went beyond displaying a company logo or tagline – these signs connected with the game in some fashion, giving the fans a reason to notice them:
1.  The Kyocera K counter.  This is a logical sign for any baseball stadium, and a great opportunity for a company to draw attention to their brand after any strikeout.
2.  The Duane Reade Pitch Speed sign.  This digital sign always displays the Duane Reade logo, but after every pitch, it also displays the pitch type and speed.  Again, a great reason for fans to notice your sign, especially if there's a high-caliber pitcher on the mound.
3.  The MetLife Countdown sign.  This sign is actively counting down the last few games of Yankee Stadium.  MetLife has done a great job of using tying the stadium countdown into their marketing and promotion efforts (I recently received an email about winning a chance to pull the countdown lever).
I'm sure there are other companies using their in-stadium signage in similar fashions.  For a team that is performing well, you can have a "magic number" countdown.  How about displaying the current pitch count?  It is more and more important to give your audience a reason to notice your brand at the game.  Don't just settle for another billboard – connect with the fans and give them value.  They will return the favor by remembering your brand and hopefully buying your product!