The Passing of Gene Upshaw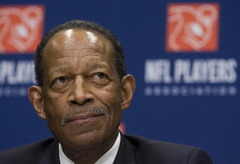 The sports industry was hit with terrible news this morning, with the passing of NFLPA Executive Director Gene Upshaw from pancreatic cancer at age 63.  Gene spent his entire life with the NFL, starting as a Hall-of-Fame caliber guard with the Raiders, up through his senior leadership roles with the players' association.  You can read more about his career here.
Even though there was some recent doubt about his role and the upcoming CBA negotiations, there is little doubt that he has been one of the most influential people in modern football.  He has been involved in every significant negotiation between the league and players in the past 30 years.  He brought free agency and financial success to the players, while also agreeing to terms that ensured the long-term success of professional football.  His shoes will be difficult to fill, but I hope that as the league and players association begin their next round of negotiations, they have as much success as they have had under Gene's guidance.