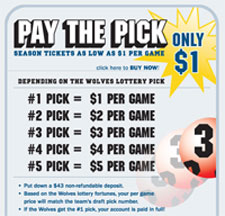 I learned from today's Sports Business Dailythat the Minnesota Timberwolves have launched a season ticket promotion called "Pay the Pick."  You can see the details on it at the Timberwolves' 2008 Draft Central webpage, but in summary, if you put down a $43 deposit for season tickets now, you can lock in a low price based on what pick the Timberwolves end up with.  A season ticket would cost $1 a game if they get the #1 pick, $2 a game if they get the #2 pick, all the way up to $5 a game for the #5 pick (the highest pick they could end up with).
Personally, I think this is a great promotion for a team that desperately needs some excitement after dealing away Kevin Garnett last offseason.  Before last year's draft, there was a lot of excitement from awful teams about the chance of landing either Greg Oden or Kevin Durant, and many teams were hoping to take advantage of a spike in season ticket sales if their team landed the #1 or #2 pick.  This spike did happen for the Trailblazers after the won the draft lottery.  However, for teams like the Celtics, Bucks, and Grizzlies that lost out on a top-2 pick, there was no significant increase in season ticket sales (at least not before the Celtics made other moves).
This promotion by the T-Wolves has the potential to build up excitement and interest in season ticket purchase, without the dependence on actually getting a top pick.  This is even more important this offseason when there is no consensus superstar top pick (some say Beasley, some say Rose, etc.).  The more that a team can generate interest without depending on results (especially in this case where they have no ability to influence the results), the more control they will have on increasing their potential revenue.  The only thing that the T-Wolves need to prepare for is how to handle those customers that make the $43 deposit if the team does end up with the #4 or #5 pick.  A well-trained outbound sales force should be able to convert these deposits into sales without significant losses.